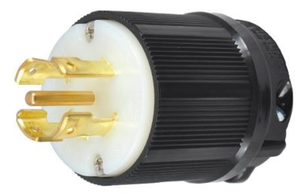 NEMA L22-30P Locking Plug
NEMA L22-30P Locking Plug, 30A, 4 Pole, 5 Wire
L22-30 NEMA 30 AMP. 277/480 Volts 4-Pole. 5-Wire. Grounding Locking Plug. (UL) US Listed. Indoor/Outdoor.  Heavy duty.   Used with generator cords and business machines.  
Provide a cable of applicable ampacity, service and temperature rating suitable for the conditions of use and location. The Plug is designed for use with 3, 4 or 5 Conductor Cables with a diameter from .375" to 1.156" (12/3 SJ through 8/5 S). Gray colored cord clamp inserts preinstalled for use with .550" to .875" cable diameter.
When making connections, make certain they are secure, properly insulated and there are no stray wire strands outside the terminals.
from Powertronics Connections (TM)